| | |
| --- | --- |
| 2600 Adventures : Nostalgia | |
You'll find a small collection of Atari 2600 nostalgia below.
This is a clipping from a 1981-82 Jafco Merchandise Catalog. This is the original 6 button model (though NOT what is known as Sunnyvale 'heavy sixer') which included 2 joysticks and 2 paddle controllers and the Combat cartridge. The cost was $149.76 (on sale from $199.99) US Dollars. Cartridge prices ranged from $18.77 (Breakout) to $29.77 (Asteroids).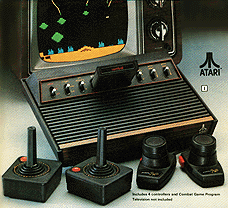 There were several catalogs that Atari put out which showcased their game cartridges. The introduction for one such catalog is reproduced below followed by a picture of the catalog.
MORE GAMES. MORE FUN. MORE ENTERTAINMENT.
When it comes to video games, no other manufacturer stacks up to ATARI. You'll find 45 Game Program cartridges listed here, including new games which will be available in the first half of 1982.
The choice ranges from classics like VIDEO CHESS to far out fun, like SPACE INVADERS. And, ATARI is the only home video game company that also makes arcade games. So you can enjoy Game Program Cartridges like ASTEROIDS, MISSILE COMMAND, and many more in your own home.
QUALITY YOU CAN COUNT ON.
ATARI products are engineered to deliver top performance with lots of action, crisp colors, and realistic sound effects.
IT'S AN UNBEATABLE SYSTEM.
The ATARI Video Computer System game consists of the game console, two sets of controllers, power adapter, TV antenna switch box and the COMBAT Game Program cartridge. The console attaches easily to your television set. (It won't interfere with normal viewing.) The controllers and cartridges plug into the console and open up a world of possibilities. The COMBAT Game Program cartridge has 27 thrilling game variations to start you off with a bang! From there, you can enjoy almost limitless fun, with your own selection of Game Program cartridges from the following pages.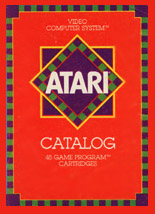 Accessories for the Atari 2600 VCS, from left to right : Modular Cartridge Library, Game Program Case and the Game Center. These were cartridge storage solutions from Atari.

An Atari comic book from DC? Yep. These mini comics were bundled with cartridges. Below are a few snapshots. There were 20 full size comics as well.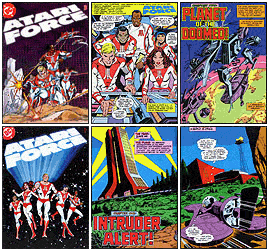 Here are a couple of media clips taken from old Atari commercials :

download Have you played Atari today? 94 KB WAV

download The fun is back 1504 KB AVI (thanks Rebecca)