| | |
| --- | --- |
| Atari 2600 VCS Program Cartridge Tour - Page 2 | |
FOOTBALL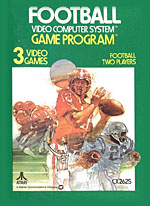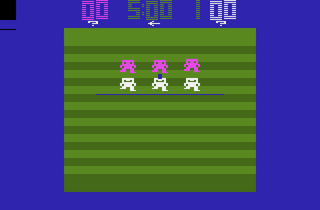 Hut one...Hut two...Hike! Pass on 3rd and long. Punt out of trouble on 4th down. Or run the end sweep for a TD. You're the quarterback calling all the offensive plays. And on defense, you're in total control, maneuvering your men into position to stop the opponent cold. Kick! Pass! Run! Score! Touchdown!
FROGGER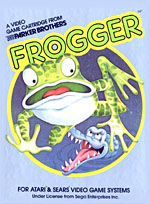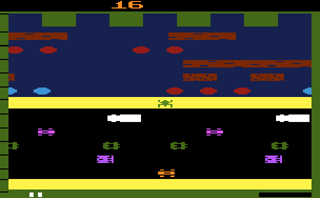 Leapin' Frogger! Home may look like it's only a hop, skip, and a jump away, but looks can be deceiving. First, there's a dangerous highway to hop across, full of fast-moving cars and trucks. Then there's a swirling river to leap, full of frog-eating creatures. How's Frogger going to get home safely? By letting you hop him on his way. Guide Frogger safely through this perilous journey, and you'll jump for joy!
GALAXIAN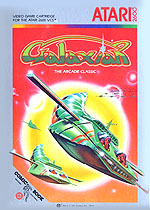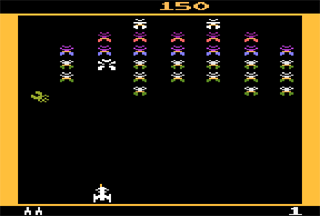 The object of the game is to destroy the Galaxian fleet before they blast your laser base to stardust. The fleet lines up in ranking order before plunging down to bombard your laser base. If a Galaxian survives a bombing run, he returns to his original position.
GOLF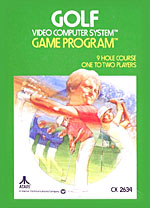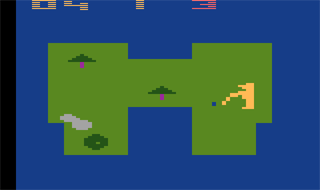 If you're feeling up to par, try nine holes on our golf course. You control the direction and power of your shot. But if your ball goes into the rough it may cost you penalty strokes. As you maneuver your golfer around the course, you get a close-up of the green for your putt. Your score is automatically recorded.
GRAVITAR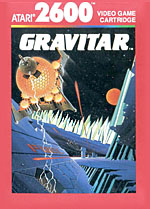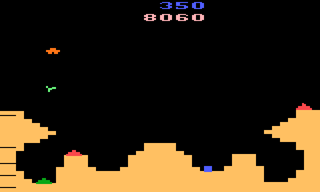 Your galaxy is under threat of attack from Gravitar. The only possible way to stop him is to break his hold on the four galaxies. You can either destroy the bunkers on all the planets or activate the reactor at the core of the Alien Reactor Base and escape before the deadly explosion. Each planet has a treacherous landscape and an even more dangerous gravitational field. Time is running out. Gravitar is coming closer!
HAUNTED HOUSE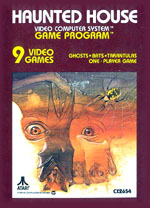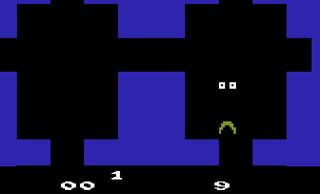 You are stumbling around in a dark and dusty haunted mansion. To escape, find the pieces of the magic urn. You'll encounter giant hairy tarantulas, vampire bats and a menacing ghost. Can you find the urn and escape the mansion before you get "scared to death"?
HOME RUN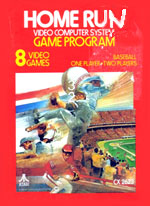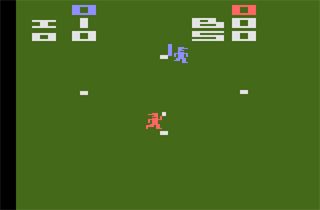 You're waiting for the pitch. The crowd cheers as you send a deep drive to center field and score the winning run. Now you're the pitcher. You mix up your pitches with your even-handed control over fast, slow or curve balls. But be careful. Balls and strikes count. So do double plays, triple plays, force outs, tag outs and sacrifice flies.
MAZE CRAZE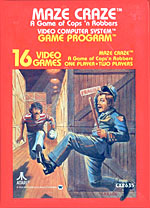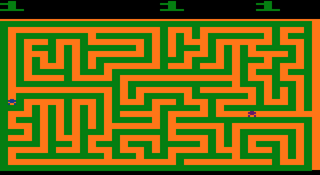 You're a cop on a tough beat. And the things you'll encounter are amazing. You'll bump into robbers and blockades, and fumble through blackouts. You'll hear hurrying footsteps, and some other surprising sounds as you try to walk your beat safely, in the least amount of time.
MISSILE COMMAND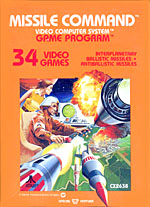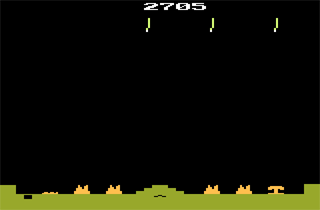 The Krytolians have launched a missile attack on your peace-loving planet of Zardon. As commander of Zardonian defenses, you must launch a counter-attack, using your powerful antiballistic missiles (ABM's) Battle conditions change dramatically in each of the games for one or two commanders.
NIGHT DRIVER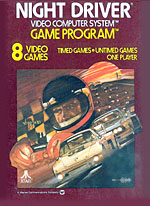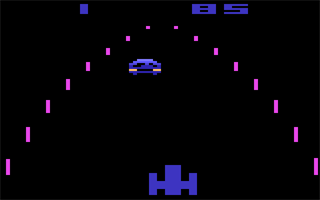 The road ahead is dark and winding. You know you're getting somewhere because the fence along the side of the road seems to keep moving. Don't get drowsy now. The longer you stay on the road, the higher your score. And watch out for those oncoming cars! Remember to keep your eyes peeled and fasten your seat belt. You never know what will jump out on the road at night.
Previous
|
Next